We are Elisabetta and Roberto, in the early 2000s we decided to give new life to an existing rural complex, renovating the old estate that stands along the edge of a historic river in Bologna, transforming it into an eco-sustainable farmhouse that uses renewable energy and grows agricultural products with low environmental impact.
Corte Roeli farmhouse offers its guests a place to relax, enjoy nature and regain direct contact with the Bolognese countryside.
We welcome travelers to our farm in Pegola di Malalbergo and teach them how to harvest seasonal fruit and vegetables and then together make pasta and traditional local dishes.
At Corte Roeli you will find the originality and tranquillity of the quiet and restful Bolognese countryside, traditional cuisine and family hospitality which, together with the short distance from the historic cities of Bologna and Ferrara and in a strategic position for reaching Venice and Florence, are the pluses for an unforgettable stay at our hotel.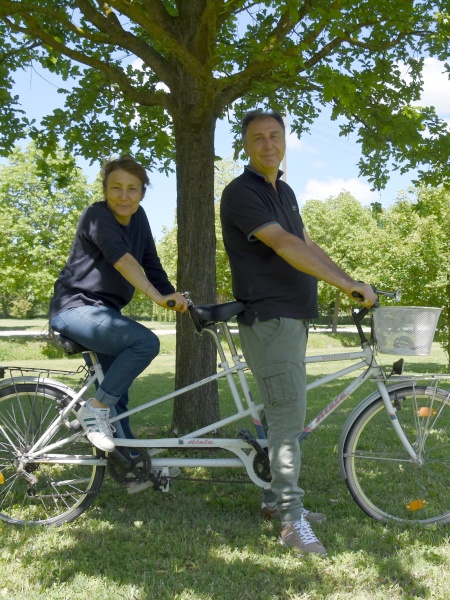 Activities during your stay
Comfortable and cosy rooms
The farmhouse is located in a 16th century farmhouse which has been renovated to respect the original structure, combined with the most modern comforts. A large private car park inside the farmhouse is also accessible to guests with reduced mobility.
We have 5 rooms, 3 doubles and two singles, and an independent mini-apartmentwith kitchenette and fridge. All rooms are equipped with air conditioning, self-adjustable heating in the room, wi-fi, TV Led, hairdryer on request, personal hygiene products, linen.
From the garden to the table
Our cuisine is inspired by Emilia-Romagna's region culinary tradition.
It comes from the strong link with our land and the seasonality of the products in the fields. The pasta and bread are always handmade according to tradition.
At Fattoria Corte Roeli you'll be able to experience Italian cuisine at its core that is often described as "apparently simple, but that hide superlative raw materials" that are cooked "with simple mastery and excellence"
The Agriturismo Corte Roeli, thanks to its excellent geographical position between Bologna and Ferrara, offers the possibility to organize business meetings and reunions in an elegant conference room with high-speed internet Wi-Fi available throughout the facility. Ample parking is also available
Wi-Fiavailable throughout the facility
On our farm we grow grapes, pears, apples, melons, watermelons, green asparagus and various vegetables through sustainable agriculture.
We produce Grasparossa Lambrusco wine, Sorbara Lambrusco, sparkling white wine, raboso grape juice and drink apricot, peach and pear fruit.
You can also buy Saba, one of the typical products of Emilia-Romagna, also known as mosto cotto.